Auditing Permissions
Visual Guard offers various ways of granting permissions to users:
You can grant permissions via multiple levels of permission sets and roles.
You can grant permissions directly to a user, his group, or a parent of his group.
You can manage very large volumes of users and permissions.
As a result, it may be complex to keep track of user permissions.
Therefore, VG 2018 introduces new features to:
View all the permission granted to a certain user.
List all the permissions granted to a given group, role or permission set.
Find the origin of a given permission (how it was granted).
For instance: Permission A > Permission set B > Role C > Group D > User E
Listing the permissions of a particular entity
Get a complete list of permissions for a given user, group, role or permission set:
Open the details page of an entity, for instance the details of a user.
Open the tab "Permissions".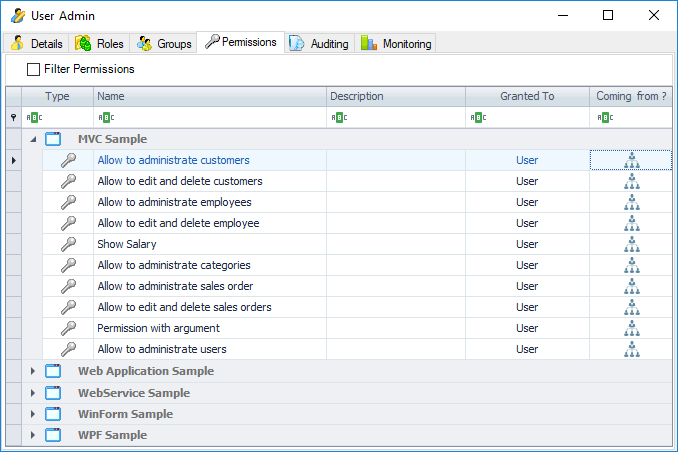 You can also list permissions from a list of a entity, for example:
Select the item 'Users' in the Treeview of the winConsole
For a given user, click on this button:
A window opens, showing the permissions of this user.